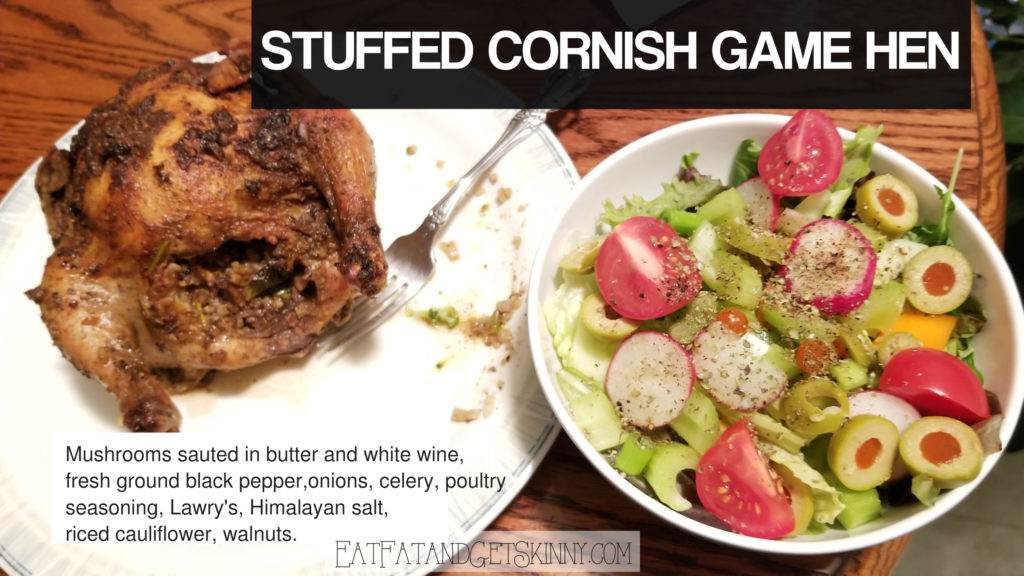 These little guys turned out to be the best hens I have ever made.
This is enough to stuff 2 birds!
2 cups riced cauliflower
2 cups thickly sliced mushrooms
Teaspoon of fresh ground black pepper (pre-ground pepper will not taste the same)
1 tablespoon Himalayan salt
1 tablespoon of poultry seasoning
A stick of butter
1/4 to 1/2 cup of white wine
1 teaspoon of dried minced garlic
1/4 cup of fresh cut parsley
1 stick of celery
1/4 of crushed walnuts
Thick cut shrooms and saute in 1/4 stick of butter and vino until light brown but still plump and put in bowl. In same pan, lightly saute your riced cauliflower for about 4 minutes.  Add 1/4 stick of butter.
Add half of all spiced to mix, add shrooms, walnuts, celery, parsley mix and then stuff birds.
Mix rest of spices and cover the birds with them. Do not be afraid to sprinkle more poultry seasoning or Lawry's on them.  Really hard to over do it.  Place in oven for about 50 minutes and check.. See if juices are running clear and not red. Once clear, add rest of butter and baste birds every 5 minutes until golden brown. Might need another 15 to 30 minutes.
Comments